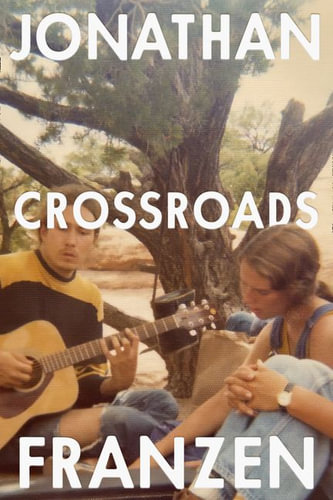 There's nothing better than sinking into a big book knowing from the start you're in the hands of a master. I've done it a few times this year ― namely The Paying Guests by Sarah Waters; The Amazing Adventures of Kavalier and Clay by Michael Chabon; and more recently Hanya Yanagihara's 2022 literary epic To Paradise. It'll come as no surprise that Jonathan Franzen's latest ― my first sampling of his work ― ranks among these.
Crossroads is the first in an intended trilogy: a great, sweeping family epic that begins here in Christmas 1971, in the small town of New Prospect, Illinois. It's a time of great cultural upheaval in America; it's an equally seismic period for the Hilderbrandt family, whose six members suffer the consequences of various individual bad decisions, and misdirected faith.
If there's a headliner to Franzen's story, it's Russ, the father; an associate minister at First Reformed Church, embroiled in a long-term feud with the head of the church's youth organisation (Crossroads), and presently lusting after a new parishioner ― the widow Frances Cottrell, who Russ believes offers an escape from the dregs of his everyday life. His wife, Marion, suffered a psychotic breakdown before she met Russ, and is just beginning to come to terms with it.
Their eldest child, Clem, is at college but deliberating dropping out and annulling his military deferment. He has a strange, rather dysfunctional relationship with his sister Becky, who has inherited a large sum of money from her aunt, and struggles with what to do with the money. The last thing she wants to do is share it with Perry, her younger brother, cold and calculating, and a drug addict (and seller). The only real innocent among this familial chaos is the youngest Hildberbrant, Judson; but how long can he remain unaffected by the bedlam?
This is a virtuosic performance by Franzen, who interweaves characters and events with savoir faire. Impressively, there's nothing melodramatic about Crossroads, despite being packed with incident and complications. It's affecting because its drama is of a subtler, but equally ruinous and emotionally wrenching kind.