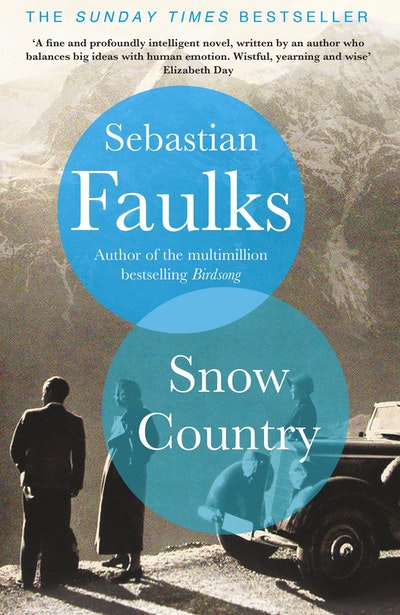 'I believe that we are lost, at the mercy of chance and that history laughs at our attempts to make a pattern or a plan.'
"Snow Country" is a melancholic love story in which two people, irrevocably scarred by their past, find themselves on a collision course with each other, and the discovery of their own hidden selves, at the snowbound Schloss Seeblick sanatorium.
This is the second novel in Sebastian Faulks' Austrian trilogy, published sixteen years after "Human Traces," their connection (as far as I could tell without giving anything away) restricted mostly to geography and theme. Set in Vienna, and stretched over the turbulent period between the two world wars when Europe was torn in half, its two principals are aspiring journalist Anton, and Lena; born into poverty, to an alcoholic mother, and unable to perceive a better life for herself. 
Lena takes a menial job at the Schloss Seeblick, and it's here she encounters Anton, who has been commissioned to write an article on the sanatorium's psychiatric practices, years after serving on the Eastern Front, and still struggling to reconcile his experiences, and the loss of his first great love Delphine. 
"Snow Country" is exactly what I expected for a writer of Sebastian Faulks' reputation (I've only ever read his James Bond novel) ― assuredly composed and engrossing, a true slow-burning pleasure that lays bare a man's wounded psyche and the dark events that still torment it, while teasing the possibility of salvation.
ISBN: 9781786330192
Format: Paperback
Number Of Pages: 368
Published: 31st August 2021
Publisher: RANDOM HOUSE UK