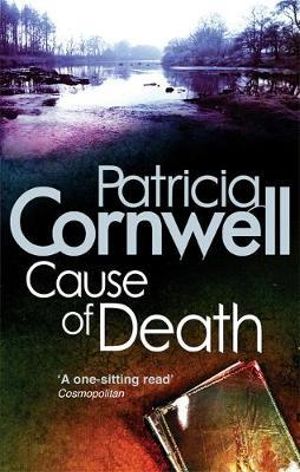 Seven novels deep into my Kay Scarpetta reading marathon I'm starting to feel like a broken record, because so much of what I feel works and does not work in "Cause of Death" has been enumerated previously.
This is my favourite kind of crime novel, which begins with one dead body, and explodes into something far more spectacular and far-reaching. The corpse is investigative reporter Ted Eddings, who died — or was killed — during an unauthorised dive in an inactive Naval shipyard. The opening pages are some of Cornwell's most atmospheric, as Chief Medical Examiner Scarpetta dons a wetsuit, and dives into pitch-black waters alongside a Navy SEAL rescue squad to examine the body. 
Cut to an extensive autopsy (which is detailed, but not gratuitous); lots of head-butting with the local cops; the disappearance of a fellow medical examiner; another murder; and the discovery of the Book of Hand, the Bible of radical New Zionist messiah Joel Hand — whose extremist agenda could have biblical consequences. 
Cornwell has a pacing issue. I've mentioned this before: the first two thirds of her thrillers are deliberately constructed, building intrigue and momentum, exactly as you'd hope. But so often her endings feel slapdash. It's not that they're conceptually bad; it's their execution, so abrupt you feel whiplash. All the ingredients are there in the pot, but they're not quite brought to the boil. It's frustrating, because everything else works so well. And that's why I'll keep on reading.
ISBN: 9780751544688
ISBN-10: 075154468X
Series: Kay Scarpetta
Audience: General
Format: Paperback
Language: English
Number Of Pages: 384
Published: 1st February 2011
Publisher: Little Brown