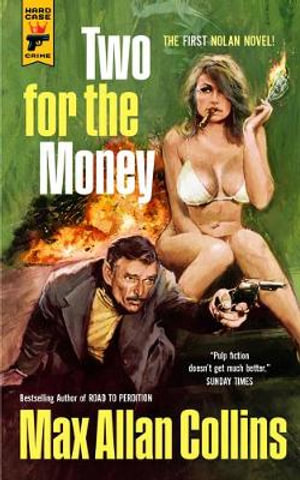 Fiction generally gets more interesting when characters are given humanity and dimension. But that's not always the case. Take Nolan for example; a character created by Max Allan Collins inspired by Richard Stark's master thief Parker.
Parker is taciturn, ruthless and ferociously single-minded. Stark's long-running series focused on the mechanics of Parker's heists. There was no real character development: these were plot-driven novels, and I adored them. Still do, in fact.
Nolan shares a lot of Parker's traits. He's a hardened professional, but cracks of compassion show. I wouldn't want to have a beer with Parker; heck, he wouldn't sit down with me for one anyway. I get the feeling Nolan would. Which also makes him slightly less interesting.
Nolan is nearly 50 and ready to call it a day. Heisting is a young man's game. Trouble is, years ago Nolan made an enemy of the entire Chicago mafia, and if he wants an easy retirement, he'll need to broker a truce. He agrees to the terms of a ceasefire: one last, epic heist, alongside a ragtag trio of thieves.
"Two For the Money" collects the first two Nolan novels published in 1973, "Bait Money" and "Blood Money," the latter of which is a direct sequel dealing with the aftermath of Nolan's last job, so their pairing works well. They are unabashed pulp fiction, the type of which isn't really published today, when everything has to have a superficial layer of complexity — or what I call extraneous plot. Padding, in other words. 
Some of the writing is cringingly archaic: Collins's description of women always begins (and sometimes ends) with her breasts. The tough-guy vernacular wears a little thin, the rejoinders crude. But just like Fleming's 007 novels, I can look past these elements and enjoy these potboilers for their whip-fast plots. I understand not every reader will be as forgiving.
ISBN: 9780857683175
ISBN-10: 0857683179
Series: Hard Case Crime
Audience: General
Format: Paperback
Language: English
Number Of Pages: 384
Published: 29th March 2011