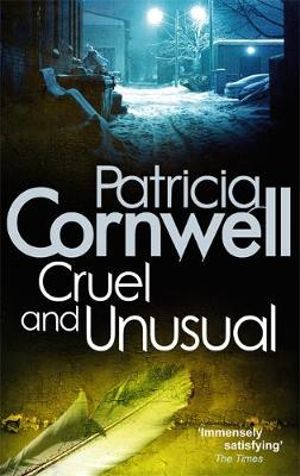 "… he thanked God for a mercy I saw no evidence of and claimed promises too late for God to keep."
Here we go. The fourth book in the Kay Scarpetta series, and I feel like Patricia Cornwell is really hitting her stride. This is everything I want from my crime fiction: a super compelling hook fleshed out in a serpentine plot, its now firmly-established characters enmeshed in a wider conspiracy.
In "Cruel and Unusual" Scarpetta is dispatched to autopsy the body of convicted murderer Ronnie Waddell after his execution by electric chair. Par for the course for Virginia's Chief Medical Examiner. But days later, a young boy is killed in a manner ostensibly analogous to Waddell's earlier killings, and his fingerprints are discovered at the scene. So the question left for Scarpetta, FBI agent Benton Wesley, and Detective Pete Merino is, how could a dead inmate have possibly committed another murder after his death?
Scarpetta's investigation is littered with a plethora of complications and deceptions. Members of her own staff are acting suspiciously. At the scene of another murder, her fingerprints are discovered, and Kay is deemed a suspect, thus relieved of her duties, and desperate to prove her innocence. And someone is accessing her confidential computer files — cue the return of Lucy, her 17-year-old niece, extraordinarily adept at computeracy, and the oft relied upon deus ex machina.
Some crime writers keep on playing tricks until they run out of pages, yielding diminishing returns. Cornwell is somewhat craftier: the master of the ruthlessly efficient thriller. It's not that the case untangles straightforwardly — where's the fun in that? — but there's so much pleasure to be had in a mystery that unravels logically (with a dash of requisite melodrama, naturally); without distractions and extra padding.
ISBN: 9780751544534
ISBN-10: 0751544531
Series: Kay Scarpetta
Audience: General
Format: Paperback
Language: English
Number Of Pages: 416
Published: 2nd September 2010
Publisher: Little Brown