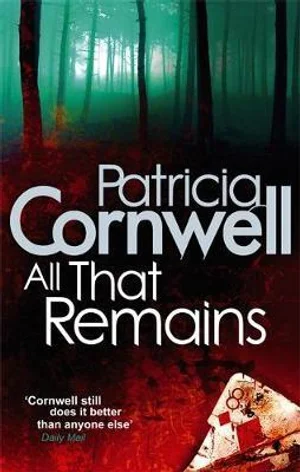 In Patricia Cornwell's third Kay Scarpetta mystery, Richmond's chief medical examiner hunts a serial killer who has been operating more than two years.
The press have dubbed the murders "The Couple Killings." Not the most inventive moniker — but an apt one. When "All That Remains" opens, we learn there have been four sets of victims so far; eight young people — couples who have disappeared without a trace, only to be eventually discovered within a fifty-mile radius of Williamsburg. The FBI and the Richmond Police Department have few clues to work with. Scarpetta herself has so far been unable to determine their cause of death, left with only bones and rotted clothing scattered with leaves to work with. And now there's a ninth and tenth victim — one of whom is the daughter of Pat Harvey, the high-profile female national drug policy director and vice-presidential hopeful.
Several characters who've featured in the series' two preceding entries reappear; Detective Pete Merino, obviously; FBI Special Agent Benton Wesley; and newspaper reporter Abby Turnbull, whose sister was herself murdered by a serial killer in "Postmortem," and is still dealing with the psychological fallout. Scarpetta's investigation unspools over weeks and months, but there is nothing glacial about its pace, and in fact the extended time-frame makes for an intriguing change of rhythm compared to most novels I've read in the genre.
On this expansive canvas, Cornwell is able to complicate relationships between characters, and demonstrate the painstaking processes involved in forensic science. Readers of this kind of fiction (myself included) are so accustomed to forensic answers being offered with an exaggerated immediacy; but in reality, it's slow, meticulous work. And as always, there's nobody better than Cornwell at eloquently and compulsively describing these methodologies and techniques.
In my review of "Body of Evidence" I mentioned my disappointment at that novel's culmination; too similar to the ending of Cornwell's debut. No such resemblance here. Oh, sure — it mightn't be as intense; but it's a worthy conclusion, splendidly binding the threads of all that came before it. Well-drawn characters and a well-tuned pace make this a winner.
ISBN: 9780751544480
ISBN-10: 0751544485
Format: Paperback
Language: English
Number Of Pages: 416
Published: 1st November 2010
Publisher: Little Brown