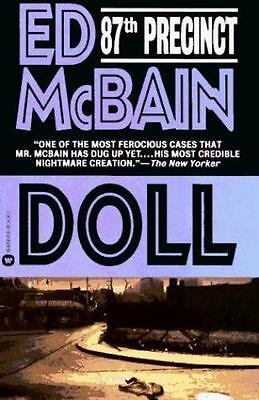 This is the 20th novel in the 87th Precinct series, but there's nothing hackneyed about it. Ed McBain was the unequivocal master of the police procedural, able to twist and re-shape conventional whodunits into top-drawer crime fiction. "Doll" (1965) is no different. It's a scalpel-sharp, beautifully stripped-down mystery thriller in which Detective Steve Carella and Detective Bert Kling investigate the brutal slaying of fashion model Tinka Sachs, whose daughter Anna heard the entire murder unfold from the room next door, her favourite doll clutched tightly.
Kling is a good detective turning bad, 'a cop who was going to hell with himself' following the murder of his fiancée, whose grief has mutated into a toxic attitude that's put him on the lieutenant's shit list and a possible transfer out of the precinct. Working the Sachs case with Carella is his last shot to prove himself, but when he messes up a simple interview with a witness, Carella works it solo – and quickly finds himself in dire straits, taken hostage by a seductress who hooks him on heroin, and presumed dead by the world at large.
"Doll" is a breathless procedural, razed of everything but its lean, mean plot. I treated it like a tasty hors d'oeuvre, down in one swallow, desperate for the next.