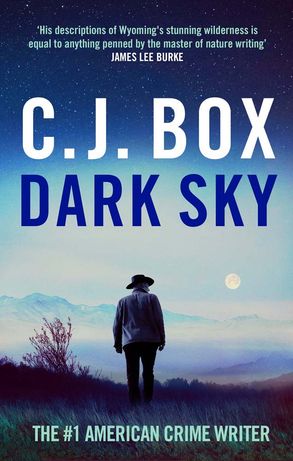 "Dark Sky" is another stellar C.J. Box thriller, his long-time hero Joe Pickett outgunned, outmanned, and adrift alongside a terrified Silicon Valley multibillionaire in the rough terrain of the Bighorn Mountains as temperatures plummet. Of course, the Wyoming game warden has demonstrated a propensity for overcoming seemingly insurmountable odds in his 20 previous adventures — but that doesn't stop his 21st from being another page-turning success.
In "Dark Sky" Joe is tasked with guiding Zuckerberg-clone Steve Price, CEO of social media company Aloft, on an elk hunting trip. Price, who logs every moment of his life online, wants a genuine no-holds-barred experience, and the governor wants to ensure Price gets his wish; his hope is that Price will be so enamoured with the landscape, he'll build Aloft's enormous server farm in the county, creating jobs, and furthering the governor's political career.
Things go to hell very quickly when Earl Thomas and his sons arrive on the scene, seeking vengeance on Price for the death of Earl's daughter, who committed suicide after being trolled and bullied on Price's social media platform. Their thirst for revenge is perhaps a tad flimsy, and it allows Box to offer social commentary on the dangers of our digital lives — but just go with it. Ultimately what matters here is that they're the bad guys, they armed to the teeth, eminently capable of murder, and Joe Pickett is the only thing standing between Steve Price and certain death.
A subplot involving series-favourite Nate Romanowski, ex-special forces turned falconer, and his protégé, Joe's eldest daughter Sheridan, is really more of a tease for Box's 22nd Pickett novel. Someone is stealing valuable birds of prey, a very bad dude indeed, we discover; but just as this plot builds up a head of steam, it's quickly snuffed out when Nate is dragged into Joe's situation.
"Dark Sky" has all the elements I love most about this series, utilising the unforgiving landscape to great effect. Box's novels always work best when the Wyoming environs play a key role. And every time I finish one, I can't wait for the next. Is there a more consistent writer of high-quality crime fiction than C.J. Box?