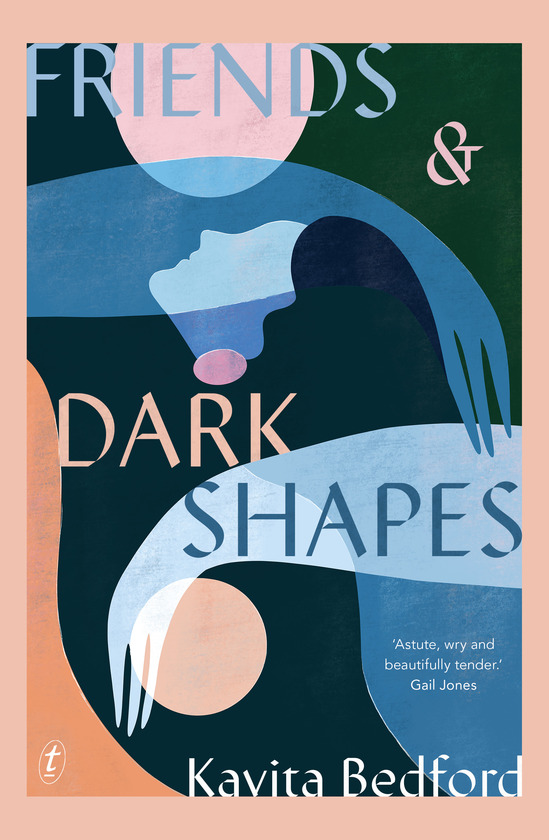 Through a series of captivating, interconnected vignettes, Kavita Bedford elliptically explores the life of a "half-Indian, half-Anglo" woman in her late-twenties, and her housemates, who share a place in rapidly-gentrifying Redfern; and the dynamic, diverse, multicultural and ever-changing city of Sydney.
Spanning one year, and broken into four parts delineated as seasons, "Friends and Dark Shapes" is about negotiating the shifting landscape of adulthood and the city she lives in. Our narrator is still processing the death of her father, a sense of loss that permeates, and barely understood by her friends, who've yet to experience the same heartbreak. The novel is essentially a series of conversations, between her and her housemates, and the strangers she meets for her work as a journalist in the various suburbs that comprise Sydney's eclectic geography.
Bedford's prose is scintillating. My copy of "Friends and Dark Shapes" is dogeared at various intervals (I'm a heathen, I know) to highlight passages relating to a time of life I've only just departed, and evocative descriptions of the metropolis I also call home. The glue holding these observations and conversations together — the narrative, her story — is a little too ethereal for my tastes, but this isn't so much a flaw as it is an authorial choice. Really, I can't think of another novel that has so wonderfully encapsulated this city and the Millennial experience of living in it. 
ISBN: 9781922330475
ISBN-10: 1922330477
Audience: General
Format: Paperback
Language: English
Number Of Pages: 256
Published: 2nd March 2021
Publisher: The Text Publishing Company