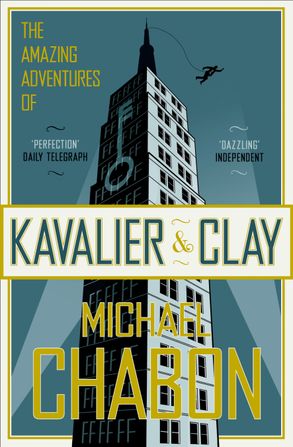 For years people have been telling me to read Michael Chabon's "The Amazing Adventures of Kavalier and Clay." But although I make my living recommending books, too many people telling me something is going to be my favourite thing ever is a total turn-off. So I've let this sit for a while. More than a decade actually, since it was first prescribed essential reading. Until now.
"Kavalier and Clay" is based on the history of the Golden Age of comic books, and its titular protagonists — Czech immigrant Josef Kavalier and his cousin Sammy Clayman — are inspired by several real-life comic creators of the era, particularly Siegel and Shuster, Simon and Kirby, and Steranko. (I'm sure they bear resemblances to other important creators too — Chabon cleverly plucking various characteristics and histories to form these two magnificently realised characters — but these seem the most glaring to my eye).
After they meet in 1939, Sam and Joe decide to utilise the latter's artistic talent and the former's encyclopaedic knowledge of the costumed heroes taking the world by storm, and create "The Escapist," part Houdini, part Robin Hood, and inspired by Joe's traumatic upbringing in the shadow of Nazism (and the tragedy of his family, still trapped in Prague), and his training as a magician and escape artist. The Escapist is a mega-hit; a Superman-like phenomenon.
But for all their success, both Sam and Joe battle their own demons. Josef thirsts for vengeance against Hitler, unable to find solace in his depictions of The Escapist taking on the Nazis, hardened by heartbreaking tragedies that befall his family, leading him to depart the life he knows for an unlikely and outlandish pilgrimage. Sam, too, is burdened by his polio-stricken body and repressed sexuality, and a desire to be more than a writer of pulps.
"Kavalier and Clay" is big and bold. Chabon luxuriates in its telling. There were times I wished he quickened its pace, but on reflection, able to perceive the narrative's tapestry from a distance, I can't imagine what he might redact. This is one of those rare books that shines more brightly in hindsight. Scrutinizing it is like polishing gold. It's supreme entertainment; a genre-meshing symphony: an epic adventure story that's also an intensely interior examination of the psyches of two men. And a wonderful ode to comic books.