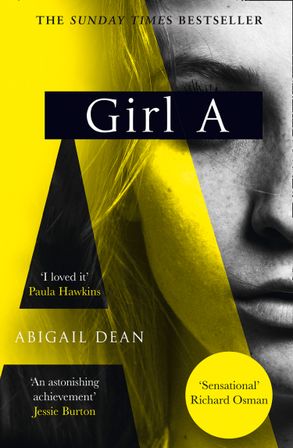 Touted as 'the biggest mystery thriller since "Gone Girl,"' Abigail Dean's "Girl A" thrums on intrigue rather than suspense. It explores the long echoes of trauma born of childhood abuse, and has more in common with Emma Donoghue's "Room" than it does with the archetypal psychological thriller. Which is not a complaint about this impeccably-paced, immersive psychological study, rather a caveat for readers expecting a narrative laden with explosive twists and shockwaves.
Alexandra "Lex" Gracie is the titular Girl A, and the protagonist of Dean's debut. Alongside her older brother and four younger siblings (Boy A, Girl B, etc), Lex grew up in an abusive home in Hollowfield, England — until she escaped, and led the authorities to their rescue, where her father promptly committed suicide, and her mother was sent to prison. The children were all placed in various foster homes, with limited, and sometimes no, contact.
Fifteen years later, Lex is now a 30-something lawyer in New York when she learns of her mother's death. She has made Lex the executor of her estate, which includes the "house of horrors," and Lex is determined to turn Hollowfield House into something beneficial to the local community. In order to do so, she needs approval from each of her siblings. Thus, as she meets with them, readers learn how their shared traumatic past has shaped their lives, complicating relationships between each other, and those beyond their private circle. Because no matter how much time has passed, there's a darkness at the root of each of them that has germinated differently.
The tight and polished control demonstrated from her opening hook — "You don't know me, but you'll have seen my face" — to the final, haunting line mark Dean as a writer to watch. Gritty, peopled with rich characters that so easily could've been caricatures of trauma, "Girl A" isn't the white-knuckle thrill ride you might expect, but it's brilliantly compelling. 
ISBN: 9780008389062
Imprint: HarperCollins – GB
On Sale: 20/01/2021
Pages: 336
List Price: 29.99 AUD