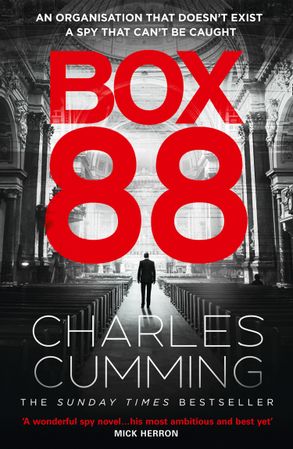 "Box 88" is the start of a new espionage series by le Carré heir Charles Cumming — or at the very least the first in a duology, the author having penned a two-book deal for what HarperCollins has described as a "game-changing" series.
Hyperbolic? Well, perhaps. Not that "Box 88" isn't worthy of accolades — this is my favourite spy novel of the year, and if you take one thing away from this, it should be that. But not because it's revolutionary; not because it's changed the face of the spy novel. Rather, because it's a refinement of the genre's tropes. Cumming gets back to the fundamentals, and polishes them to a gleam. He delivers a salvo of exciting action set-pieces, strips his story of political bureaucratese, and tinges his narrative with emotional depth. In a genre saturated with gun-totting renegade operatives, "Box 88" is a novel for the more discerning thrill-seeker.
The titular Box 88 is a covert transatlantic anti-terrorism spy agency that's blacker than black; even MI6 and the CIA aren't sure of its existence. Lachlan Kite is one of its agents, recruited from an elite boarding school in 1989, towards the end of the Cold War, to gather intelligence on an Iranian businessman implicated in the Lockerbie bombing, who has ties to the family Kite is staying with in France, at the holiday home of one of his closest friends.
What happens on this operation for the young, inexperienced Kite will have massive repercussions more than 30 years later in 2020, when he is kidnapped off the streets of London by Iranian intelligence, in front of a team of MI5 observes who are watching Kite, hoping to find evidence of Box 88's existence. Kite's kidnappers want to know the truth about events three decades ago — and are willing to kill, wound and maim anybody connected to Kite to illicit answers.
Rejecting simplistic linearity, Cumming's book flits smoothly between timelines, building to a fabulous crescendo of action and revelations; and plenty of reason to return for its sequel. Spy fiction at its very best.