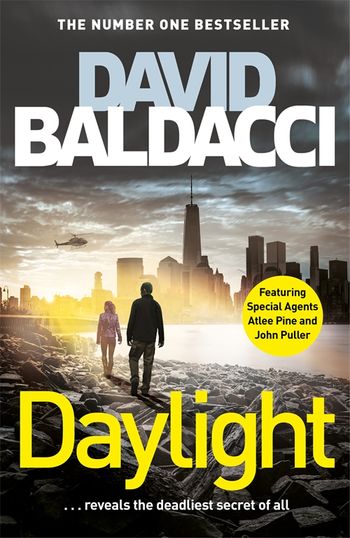 David Baldacci has penned his Atlee Pine novels like a television series. Each of the three books so far have involved an over-arcing story involving the kidnapping of her sister, Mercy, thirty years ago. That investigation inches towards a revolution with each instalment, but is relegated to the "B" story, as a more urgent situation arises, drawing the FBI agent's attention away.
Sounds great, conceptually; but with a year between books — and having skipped last year's "A Minute to Midnight" (for no other reason than I never got around to it) — I wasn't totally up to speed on where things stood with Pine's investigation. And though Baldacci provides the necessary information to support newcomers, its detailing is a little contrived. Perhaps a "Previously in…" page before the story begins might be a way around this? It's artificial, sure; but would spare the reader recap banter.
When "Daylight" opens, Pine and her bureau colleague Carol Blum arrive at a house in Trenton, New Jersey, the last known location of Ito Vincenzo, Mercy's kidnapper. They inadvertently stumble into — and ruin — an Army CID investigation run by John Puller; an established Baldacci hero, who is working a case involving a drug ring tied to a military installation.
Determined to make amends for her screw-up, and figuring their investigations are connected and will lead her to Vincenzo, Pine and Puller team up. But they're blighted at every turn: by powerful people high up in the government, and a smorgasbord of gun-totting goons, naturally.
Baldacci's no stylist, but his prose is economical, and his story moves quickly, pockmarked with all kinds of roadblocks for his characters to detour around. The action scenes read perfunctorily rather than pulse-poundingly; sketched too briskly to maintain suspense. But there are plenty of them. It's unenterprising stuff from a guy who's earned his legion of fans, and delivers precisely what they want, like clockwork, year after year. And I'll be back with them, to hopefully finally learn the truth of Mercy's fate.
ISBN: 9781509874583
Format: Trade Paperback
Pub Date: 27/10/2020
Imprint: Macmillan
Pages: 464
Price: $32.99